Insights
Managing hybrid teams – what's 'normal' anymore?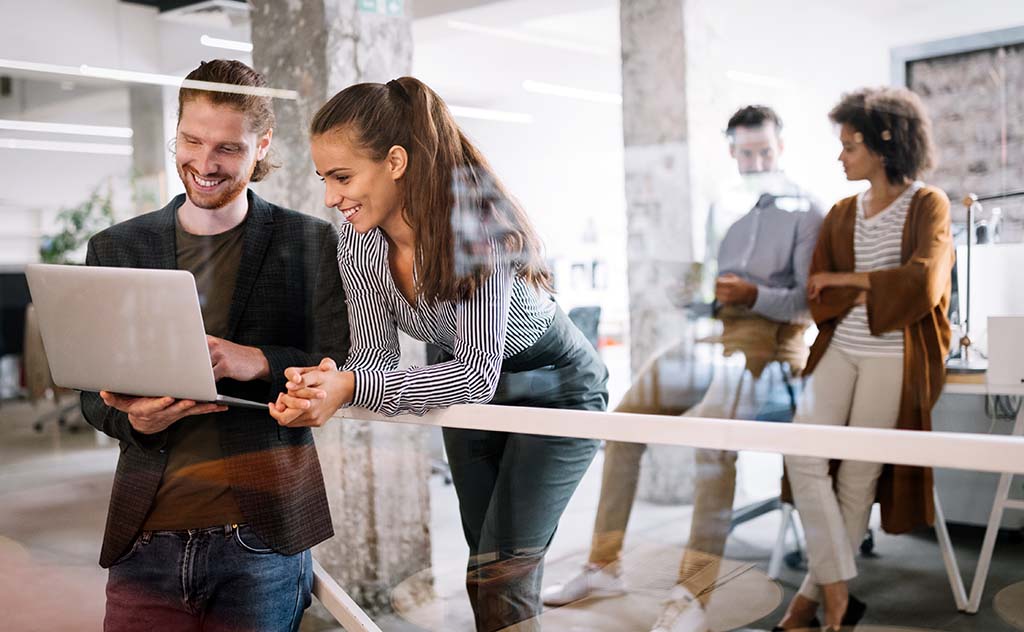 The shape of the working world was changed forever by the global pandemic, and now, years later it can still feel quite challenging to define what a modern working environment should look like. As we went in and out of three lockdowns during 2020 and 2021, most employees were working from home and leaders had to swiftly adapt to managing teams remotely, often with high levels of sickness absence.
Many organisations who had not previously utilised home working now had no choice – and actually found some benefits in employee engagement, retention and cost reductions associated with physical office space.
The overwhelming consensus today is that most people now expect an element of flexible working for the rest of their career. But what does that look like? Keeping in mind that what works for one person or one company may not work for another.
Here we unpack some of the key challenges and considerations for leaders to help determine what the best approach could be for managing your teams today.
Benefits beyond flexibility
There has been a sense of enlightenment that has accompanied the shift to remote working. Despite some of the challenges there are many benefits. People that used to commute to the office every day have gained an additional two to three hours in their day. With that in mind, nobody really wants to return to the rat race, either sitting in traffic or on a train when they could be spending time with their family, playing sport or simply relaxing.
Technology has enabled teams to remain connected, demonstrating that as long as a person has a computer and internet connection, there's really no restriction on where they could work. For many employees it has been empowering to be able to plan their own day according to their priorities and a relief not to have a manager looking over their shoulder all the time checking what they're doing.
Despite the concerns that many organisations had when employees started working from home, productivity didn't drop off. If anything it was the opposite. Employees were more productive and many companies actually gained more value from their teams as a result.
Another benefit was that it broadened the hiring opportunities. Not limited by geographical location, companies could hire people who lived elsewhere, even overseas. This gave them access to a greater talent pool or provided access to specific expertise that they may not have had access to locally.
Key challenges of working remotely
Managing teams remotely required major adaptation. In a way it added to the workload of managers because staying connected with everyone and coordinating calendars and tasks all had to be managed remotely. In an office environment it's sometimes easier to get a sense of how employees are feeling, just by observing interactions and behaviour in the office. Even then, most of the underlying factors are not seen or talked about, and what managers think is a minor problem could just be the tip of the iceberg. In reality the underlying problem is much bigger. With employees working from home managers can't even get a view of the iceberg, never mind the underlying issues that might be impacting productivity.
Zoom fatigue is real. Managers and employees alike have struggled with on screen meetings taking up most of their day. Trying to find a balance between staying connected with everyone in the team and allowing enough time for daily tasks isn't easy. When asked what would motivate people to be in the office, many say interacting with colleagues in person.
This is particularly prevalent for the younger generation where so much of their identity can be tied up in work and much of their social structure is linked to work. For them lockdown was really isolating and lonely and many were eager to get back to a work environment where they can socialise with colleagues and also learn by 'osmosis' of watching and listening to more experienced colleagues, or just casually asking for answers and views from others.
What's best? Office, remote working or a hybrid working arrangement?
Many companies are still figuring out what the best path forward is. They know remote working can work, both for the business and employees, but what was originally only intended as a temporary solution has become a permanent expectation for many.
Much will be determined by the company culture and leadership. If the policy is vague, employees are likely to follow the example set by leadership. Before making a unilateral decision, however, remember to talk to your employees, they have diverse circumstances, needs and personalities. They need to be included in the decision-making process because it is something that directly impacts them and how they feel about the company.
Some of the questions that business leaders could consider are:
What do individuals want?
Which roles are suited to flexible working and are there any that aren't?
How do we create a policy that is fair to everyone?
How flexible can we be? What are the logistical, operational, training or management challenges involved?
What are the financial impacts of full-time back office versus fully remote or a hybrid model?
How are others responding? What do our clients, competitors and suppliers do and is it working?
The bigger picture – will it work for our organisation in the long term?
Five Management Takeaways
There is no one-size-fits-all solution. Even within the same organisation, the situation and challenges can be different in different regions or countries. What skills do leaders need to be able to navigate successfully?
1. Communication and connection
It's critical that leaders keep good communications up with their team. It is through this that leaders will know what's important to their staff, what they're struggling with and how motivated they're feeling towards their work. More importantly, how are they doing in terms of mental health and well-being? Is remote working what they want, or do they want to be back in person with colleagues and clients, or a blend of both? Is this consistent? People communicate better when there is a level of trust and when they think they'll be heard. When leaders make communication a priority it builds that trust.
2. Choice
Employees will have different preferences based on their experiences and circumstances (which may change). So how much choice can we give to employees? And what will be fair to everyone involved? It can be challenging for a team to operate cohesively when they're not working in the same way, but is it fair to dictate that everyone should conform to the same policy? Where directives were given for employees to return to the office, even part-time on set days, there was understandable resistance from employees that prefer to work remotely and felt it was futile. Once again, achieving the best outcome will require clear communication.
3. Consideration and empathy
Many people's situation permanently changed as a result. Some suffered isolation, grief and loss, relationship or marital breakdown and additional responsibilities or financial stress. Physical and mental health has been negatively affected long-term for many. For others, working from home enabled them to improve their quality of life – spending more time with family and to adjust their work schedule to balance family needs. All of these elements need to be taken into consideration by leaders when making decisions about working policies. Where empathy and understanding is displayed it is likely to generate goodwill and more loyalty from those employees.
4. Collaboration
Permanently managing hybrid teams will require a commitment to greater collaboration. This includes ensuring that team members have the right tools and technologies at their disposal and access to information and systems. One of the biggest stumbling blocks for companies is when teams build up expertise but keep it to themselves, creating silos within the organisation. Regardless of whether teams are working remotely or in person, collaboration needs to become part of the culture. It's up to leaders to create a working environment where collaboration and information sharing becomes the norm as this is what leads to growth and innovation.
5. Contingencies for changing circumstances
If the pandemic has taught us anything it's that change can happen quickly and be dramatic. It has shown the value in having the ability to be agile and respond quickly to changing circumstances. Agility is a cultural element driven by company leadership. Employees will respond better to change if it is seen as something positive. When deciding on flexible working policies it needs to have contingencies for changing circumstances. When this is thought through in advance the company will be better prepared for change when it occurs.
Need to speak with us?
We're here to help. Contact one of our experts today.